Direct Mail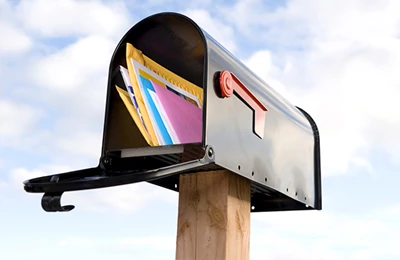 Partner with an experienced pro like us to get best results from your next mail campaign.
In this digital age, you may wonder why so many businesses reach out to prospects via direct mail. Because it works! While people might be overwhelmed with the volume of emails they receive daily, printed direct mail advertising allows recipients to hold, save for later and read on their own time.
Direct mail drives attention to your brand and prompts action. If you are ready to launch a campaign, combining that with direct mail can only enhance your results. Whether you are looking to use direct mail marketing to drive brand awareness or reach potential clients, you can be sure your response rates will significantly increase and maximize your budget.
Experts in all aspects of direct mail campaigns and ready to assist, KKP knows this first-hand. Here are five points that illustrate how and why direct marketing remains alive and well in the 21st century. Direct mail is:
Flexible: Direct mail offers a variety of format options. A postcard, letter with insert, self-mailer, or three-dimensional package in the form of a box, mailing tube, or padded envelope can all achieve excellent results. Ask us. KKP offers options for every direct mail marketer and any budget.
Intrusive: Direct mail advertising is an "active" format. Customers may eventually find their way to your website, but a catalogue or a direct mail piece in their mailbox is an intrusive "tap on the shoulder" that online-only activities don't allow. According to Canada Post, 39% of consumers pay more attention to campaigns that combine online and direct mail.
Measurable: With other tactics, it's sometimes hard to know what's working and what's not. Direct mail marketing campaigns from KKP are popular because you can test hypotheses and measure results. We'll help show you how.
Tactile: There's something to be said for appealing to the senses. With various paper finishes and folds from which to choose, direct mail campaigns from KKP deliver a sensation of touch that online activity can't match.
Targeted: Direct mail is targeted to the people most likely to respond. Whether you're speaking to prospects or customers, the best way to reach a specific audience is through direct mail advertising. Bulk mailing (e.g., without names) such as with Canada Post's Neighbourhood Mail™ can reduce costs. Personalized direct mail (e.g., with names and even individualized images and messages) can increase results. With KKP, there's an option for every direct mail marketer!
Above all, direct mail advertising is cost-effective and has proven to work. In fact, going to the mailbox to discover what's inside is a daily ritual for most of us. Whether it's a product catalog, a dollars-off offer from a nearby restaurant, or an invitation to a charity fundraising event, mail fills an intrinsic human need. That's what makes it so powerful — and why direct mail continues to be a powerful way to generate leads and sales.
KKP is the full-service printing and mailing resource every small and medium-sized business needs to elevate their marketing campaigns. Get your message into the hands of your clients and prospect's hands. Ready to add direct mail into your marketing mix? Contact us today!
Check out our most recent articles about direct mail: